Reimaging Community in a Virtual Environment: Summer 2021 at CTD
By Ruth Doan, Stephen Dowling, Danielle Holtz, and Nick Tryling
A typical summer with CTD can get, well, a little loud. Bonds are created in the classroom and the residence hall that fill the hallways of our campus buildings with shouts of excitement and form the foundation of lifelong friendships. The first day of class at CTD is also the start of a community being formed, one distinct from any that has come before it. 
While transitioning to an online format in 2020, we were determined to maintain the social programming and community building that sets CTD apart from many pre-college programs. We are fortunate to have that foundation to build upon in 2021, as well as many years of successful online learning through our Online Program, as we continue to reimagine the in-person CTD experience remotely.
Community begins in the classroom, and we make sure that our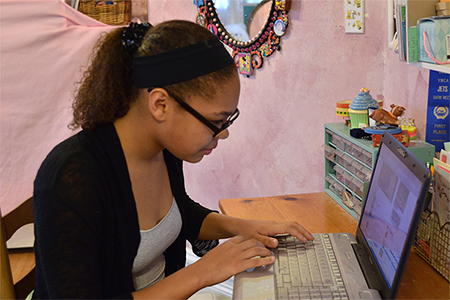 instructors and TAs are ready to facilitate social connections and friendships between students who might be, truly, a world apart. Through deliberate use of technological tools, careful curricular design, and execution, CTD classrooms – in-person and online – center our students' shared humanity and build an intellectual community where every student feels they belong. 
Community building continues into the afternoon with our activities program. Even though we're all at home this summer, we're focused on providing our students with ample opportunities to connect with peers both inside and outside their course.  Students in the Solstice and Spectrum programs will have the option to try out a few different activities a week including choreographed dance, trivia, pop culture discussions, bingo, and even perform in a cross-program talent show.  
For our high school students in Equinox, we are excited to host a daily half-hour social in the afternoons called the Hangout.  The Hangout, like a student union, is a place where students from all Equinox classes get to meet; if they meet someone they click with, they have the ability to get to know that person more using the social features of Schoology.  TAs always start with an ice-breaker, a quick presentation on college prep or virtual tour of their alma mater, and finish by facilitating casual student-to-student conversation.   
The goal of these activities is that students of all ages can explore both new and old interests outside of the classroom, meet new friends, and build their social and emotional skills. In addition to these afternoon activities, there are also optional self-paced daily prompts that support student success. In addition to readings on growth-mindset, students can access a playlist for the week, along with daily meditation, journal entries, and stretching. 
CTD's talent development philosophy centers around challenge and support, and our commitment to creating strong learning communities remains steadfast in any environment. CTD connects students with enriching courses led by talented instructors and bolstered by a community of peers—a perfect combination for an enjoyable and successful talent development journey. 
See you online!